I
nfinite CBD
is a company that likes to do things a bit differently than the average manufacturer of products featuring cannabidiol. As CBD is still (relatively) new addition to the market and many consumers can feel overwhelmed with the torrents of, often contradictory, information. Therefore, the marketers of Infinite CBD chose an "educational angle," in the context of delivering superior quality merchandise of course.
In this review, we will explore how the juxtaposition of scientific arguments against a revamped model of anonymous testimonials works, while also providing relevant descriptions of the products themselves. Furthermore, we will assess how the main features of these supplements (concentration and delivery method) fare against presented studies. Moreover, where relevant, we will discuss the existing competitors and if there are feasible alternatives to Infinite CBD's commodities.
Infinite CBD – The Company and Their Values
Ever since performing the first scroll down Infinite CBD website's homepage, one realizes that their approach is not a typical one. A single product is followed by the ABC of cannabidiol – a phytocannabinoid that is almost opposed to tetrahydrocannabinol yet with even bigger potential for the future of polypharmacology. The first section of the site is called "education," and even their newsletter's purpose is for the possible customer to "stay educated." We should say that this is a fresh sight, not having dozens of products thrown in one's face from the get-go.
Infinite CBD's principles for their CBD products are pure and briefly stated wherever the opportunity arises:
A proprietary formula consisting of hemp-derived cannabidiol in the form of isolate that is more than 99% pure (less than 0.1% THC) is the base for all their supplements. As it has been suggested that terpenes from the cannabis plant influence the human body's assimilation of cannabinoids (also known as the "entourage effect"), some of their products feature different terpenes; an aspect we will touch upon later in this review. Finally, droppers and capsules benefit from the use of coconut oil.
Avoidance of harmful practices (which some manufacturers in the CBD industry do not shy away from): steering away from CBD oils (because they can contain impurities), additives or other chemicals.
Everything sounds squeaky clean in this declaration of principles. However, the reality is not as rosy. While Infinite CBD provides proof of lab tests for each product, those analyses are strictly limited to the cannabinoid composition. They may thoroughly test for pesticides or other by-products of industrial manufacturing, yet no results are made public. Furthermore, there is no mention of the source of the plant material, not even the country of origin. There is a big difference between hemp cultivated in conditions of ecological agriculture in Denmark (for example), and hemp is grown extensively and intensively in Russia or China. These two omissions from Infinite CBD are the most obvious warning signs we have been able to observe in the company's commercial communication strategy.
To round up these less than savory aspects, we should also point out two other dubious practices Infinite CBD has engaged (or is currently engaging) in, though they are by no means exceptions in the cannabidiol supplementation market:
Reviews and testimonials are an integral part of their marketing method, evident by the manner in which they have elected to present conjectured benefits of cannabidiol in the "stories" section of their website. Though it is interesting reading and there are no reasons to suspect outright fabrication, within their Terms of Use Agreement, the company retains discretion in posting and deleting reviews from their official website and social media accounts (which are numerous, Infinite CBD practically ticking off all such outlets of expression). Skeptical customers would have welcomed a bit more transparency. However, they have deemed it bad for overall business.
According to their website, the enterprise is headquartered in Denver, Colorado and has been so since 2016. This data adds up in official records, with the problem that their status as a Limited Liability Partnership in the state of Colorado is withdrawn as of August 2017. This aspect raises many questions. However, observers of the CBD supplement manufacturers over the years are more than used to companies with head offices marred by uncertainty. This situation also explains the abridged "Contact Us" section, which consists only of an e-mail address and a telephone number.
Now that we have raised the necessary warning signs, something that all conscientious consumers should always notice, it is time to highlight how Infinite CBD is different from its ceaseless competition, in a positive manner:
Transparent about its affiliate programs, and a straightforward process in case customers want to join in.
Open about its side-business of providing white label CBD products to that intent on designing their line of supplements.
Remarkably thorough FAQ section, where one can find out the shipping dates (no more than three business days from the ordering day), shipping areas (most of the continental United States), and various fundamentals concerning cannabidiol and cannabis-derived merchandise.
Superbly laid-out and written "blog" section, with constant posts which track the company's development, but also the whole cannabis-related industry. Crucial information can be found out only here such as some of the physical locations where Infinite CBD products can be bought, commonly used terpenes and the "Entourage Effect" they contribute to, cannabidiol infused edibles and drinks that can be easily prepared at home, updated statistics on the burgeoning CBD market, or how can CBD work in synergy with non-cannabis compounds such as caffeine or coconut oil.
Promoting Cannabidiol Through Education at Infinite CBD
Infinite CBD is not the first or only such company that cites scientific studies which corroborate their assertions on the benefits of CBD. However, while most enterprises simply list the studies, Infinite CBD has incorporated them in a more "holistic" strategy, that starts with the needs of customers, linking existing customers (through testimonials), proven and possible uses of cannabidiol and, obviously, their merchandise. Along with their blog and intense activity on social media, this is one of the core aspects of what we deemed their "educational angle." Here are some of the main claims the company makes regarding how buyers can profit from the purchase and correct use of their CBD products.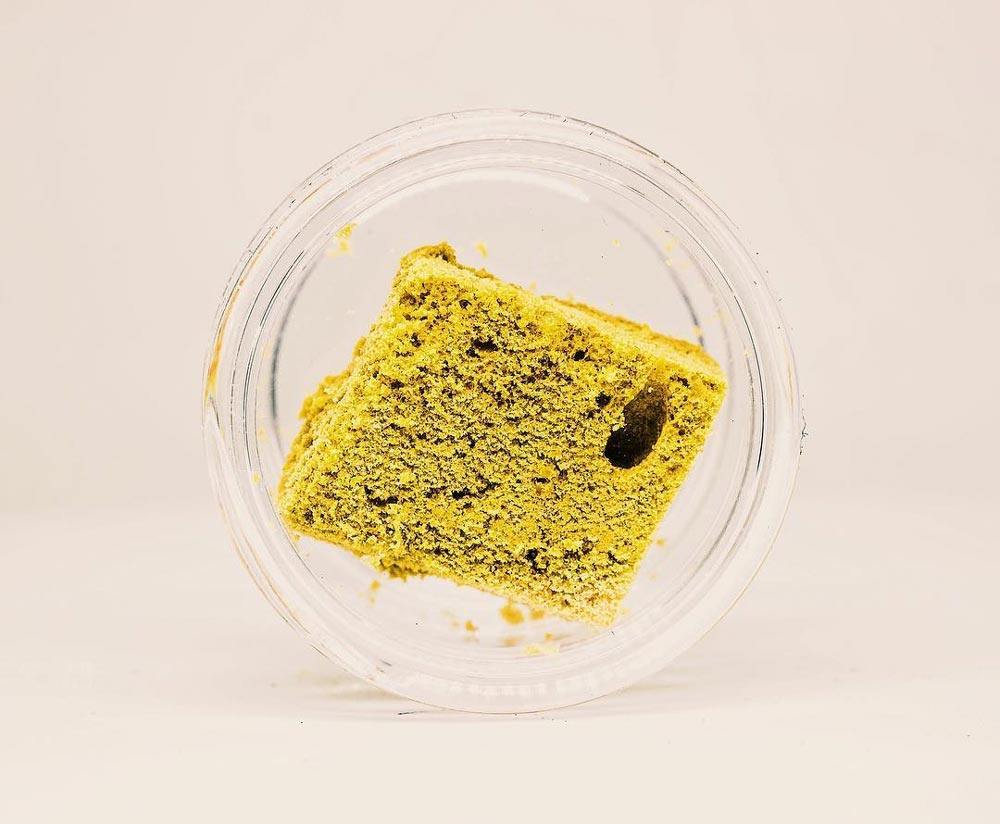 The importance of the
delivery method
– depending on where and how cannabidiol enters a person's system, its effects are felt differently. For individuals looking for a CBD regimen in the longer term, the
sublingual
method is the most advisable. As opposed to ingesting cannabidiol, this manner skips the upper digestive tract and reaches the bloodstream in no more than 20 minutes. Because cannabinoids are mostly broken down in the liver, the receptors in that area are being stimulated. This oral (or mucosal) delivery best suits people who experience mild digestive discomforts, or a broader and recurring malaise, and are seeking the benefits of cannabidiol as a systematic endeavor.
The "traditional" inhalation method of cannabinoid consumption is, as it is easily imagined, perfect for individuals seeking immediate results, mainly those suffering from chronic pain. Also, Infinite CBD recommends their vape products to those afflicted by several mental disorders as a way of instantly relieving the emotional stress.
Though not as popular as the procedures mentioned above, ingesting cannabidiol is beginning to gather some momentum among users, mainly due to isolates that can be incorporated into everyday foods. This method means that CBD will reach the bloodstream markedly slower, and its effects are not felt all that powerfully. Furthermore, how the cannabinoid is absorbed is also dependent on one's diet. Therefore, the capsules, isolates, and other edibles are targeted at individuals looking at a long and experimental relationship with cannabidiol, especially those treating it as a bona fide dietary supplement.
Topical application of CBD is a method aimed at a restricted segment of the public. As localized muscle pains are effectively treatable with a host of substances, it is only logical that cannabidiol creams mostly benefit those with often recurring such discomforts, particularly athletes.
Not many companies offer CBD products with rectal/vaginal delivery. Nevertheless, it is well documented that cannabidiol may provide a high degree of relief to women suffering from menstrual pains. Also, there are numerous instances where individuals may want to skip the overexposure of the digestive tract, or are uncomfortable with the other methods of delivery. This manner of consumption offers especially quick relief, similar to the inhalation method.
Unique to the Infinite CBD website is a review of the most popular terpenes used in supplements featuring cannabinoids. Simply put, terpenes are aggregations of plant oil (naturally found more in solid form, but liquefied when used in the manufacturing industry) which have a host of beneficial properties, in addition to providing a specific aroma. Terpenes are not restricted to the cannabis plant, though there are some proprietary strains.
On the official website, customers can find short profiles of 14 most popular terpenes (most of them are already used in the recipes of Infinite CBD merchandise), alongside 12 of the most well-known strain-specific terpenes.
Currently, some Infinite CBD products may be ordered with a choice of terpenes infusion, with 11 terpenes strains to select from for a more pronounced flavor:
"Harlequin" delivers an earthy scent to the cannabidiol and is supposed to offer extra relief in chronic pain cases.
"Blueberry" needs no further explanations; helps in instances of reduced appetite.
"Strawberry Diesel" – aid for insomniacs.
"Super Lemon Haze" – a touch of citrus should help with the anti-depressive dimension of phytocannabinoids.
"Tangi" – has a similar aroma to the Lemon Haze, and should boost anti-emetic effects.
"Pineapple Express" – tropical essences to help with stress relief.
"OG Kush" – redwood scents to address sleeping problems.
"Mango Kush" is supposed to deal with persistent headaches.
"Charlotte's Web" – emanating flowery perfumes, these terpenes strain aids in the fight against inflammation.
"Cheese" is and does exactly what its name suggests: stimulates salivation and lack of appetite.
Nine success stories are documented on Infinite CBD's website which, alongside the citation of numerous scientific studies backing up the various benefits of cannabidiol, lead the reader to the conclusion that their products can be used to significantly alleviate or treat the symptoms of up to 17 afflictions:
Chronic Pain – either caused by mechanical accidents or due to internal factors, cannabidiol has been touted as a possible replacement of prescription drugs that have serious side effects. One of the testimonials features the efficient treatment of chronic pain using a combination of medium-dose CBD droppers and locally applied lotion.
To back up these assertions, Infinite CBD quotes a study, whose findings were published in 2008 in the "Therapeutics and Clinical Risks Management" journal, which proposes that the analgesic properties of cannabinoids need further exploration as an alternative long-term pain therapy.
We will insist a bit longer on this condition, mainly because chronic pain made the fame of cannabidiol. The fact is the study above focuses on pain medication containing cannabinoids already legal outside the United States, and the possibility that such medication would be less addictive than current(then) solutions. Also, it is already ten years old and scientists today work with much-improved data.
Nevertheless, the principles of the endocannabinoid system are still in place. Certain modulations within the CB1 receptors caused by the assimilation of phytocannabinoids alleviate pain and inflammation.[1] The problem remains that pharmacologists still disagree on the cannabinoid (or cannabinoid cocktail) that best suits an individual condition, with the evidence concerning cannabidiol as a standalone solution being quite slim. Therefore, just because one (or a host of) individual(s) report significant successes does not mean the same cannabinoid or dosage can work for everybody.
Inflammation – we have already briefly covered the necessary information about cannabidiol and inflammation in the previous paragraph. Nevertheless, more and more research is being done in the academic community on the subject[2]. Infinite CBD quote a relatively recent in vivo experiment, accomplished in India which suggests that the links between the immune system and the endocannabinoid system may be even deeper than previously thought. Another claim made by Infinite CBD, related to the benefits of reduced inflammation, is that cannabidiol supplementation may greatly aid individuals who experience extended recoveries from broken bones.
Neuropathic Pain arises from nerve damage caused by widespread diseases (diabetes, cancer through chemotherapy, multiple sclerosis, and viral infections such as HIV and herpes), though not restricted to these. It is notoriously difficult to reduce with the aid of conventional pharmaceuticals. Cannabinoid therapy garnered positive results in animal testing, with the few experimental human groups reporting a considerable increase in quality of life. The same is true of the testimonial delivered by a happy Infinite CBD customer, and they back this up by mentioning a 2009 article contained in the "Neurotherapeutics" journal.[3]
Oxidative Stress is usually present alongside chronic pain, although the relationships between the two are still something of a mystery to scientists. High levels of oxidative stress are associated with autoimmune conditions and even neurologic disease. Infinite CBD quotes a 2011 article published in the "Free Radical Biology and Medicine" journal [4] – practically a long review of the existing literature – which implies that there is potential for cannabidiol to be the active agent in a pill that drastically reduces oxidative stress, thus halting the progression of associated disorders.
Hypertension – high blood pressure is an affliction that does not discriminate and is one of the most pervasive chronic conditions in the developed world. Therefore a neutralizer with minimal side effects is one of the pharmacology's chief goals. Tests featuring cannabidiol on small mammals yield promising results, and CBD manufacturers have not waited long in adding the lowering of blood pressure to their lists of potential benefits of cannabidiol. Infinite CBD has followed this fashion and relate to the 2017 findings of three researchers at the University of Nottingham, who have administered 600 mg of cannabidiol on a small sample of healthy human males. Modest reductions in resting blood pressure and stress-induced tension were observed. Even though it is early days, especially considering the complexity of the disease, this aspect does bode well for the future of cannabidiol[5], if not for the present.
Anxiety & Stress – if there is one benefit of cannabinoids that has all but been proven, combating stress and anxiety is surely the one. There are numerous, high-quality studies attesting to this, with Infinite CBD referring a 2015 experiment whose promising findings were published in the "Neurotherapeutics" journal. We should also note here that the scientists responsible ticked numerous boxes on the anxiety scale and causes.[6]
Paranoia – it has been inferred that cannabidiol may relieve paranoia due to its soothing effects, yet the causes and manifestations of this particular disorder are many and hard to pin down. From the limited research into CBD we have until now, the only corroborating evidence has to do with paranoia stemming from administering large doses of THC.[7] Although Infinite CBD tends to overplay cannabidiol's potential benefits, the only paper they reference is the established 2013 article, printed in the "Frontiers in Psychiatry" journal.
Post-Traumatic Stress Disorder (PTSD) – PTSD is probably the most dramatic of all anxiety disorders while being one of the most difficult to treat. At present, cannabidiol has shown great promise on the whole anxiety spectrum, but in the specific case of post-traumatic stress disorder, it seems that CBD works on the neural pathways responsible for abnormal fear responses. This hypothesis was first advanced in 2014 by an American research duo and published in the "Current Pharmaceutical Design" journal.[8]
Indigestion – an important part of the receptors that form the endocannabinoid system is located in the gastrointestinal tract. Therefore links between cannabidiol and gastric disorders are currently investigated. This is one explanation why a smoother gastro-intestinal movement may be achieved with cannabidiol supplementation, with a more loose one being the overall reduction of inflammation.[9][10]
Sjögren Syndrome – is an autoimmune condition where several of the body's glands that produce moisture are rendered inoperational. The problem with including it on Infinite CBD's list lies in the absence of research targeting the disease itself, the only evidence being the corrective immunity properties of cannabidiol, which we have discussed in previous paragraphs.
In fact, a couple of testimonials on the official website explain that the cases presented could be considered a benchmark for other potential customers through this forced extrapolation of data we have encountered in the Sjögren Syndrome example. A couple of other conditions that may benefit from CBD are added to the list in this manner. These include fibromyalgia, Chiari malformations, pseudarthrosis, or degenerative disc disease.
All in all, we must account for the fact that Infinite CBD's educational angle combined with a novel testimonial promotion method makes for absorbing reading and it is evident that they have thoroughly done their research. A few blips here and there in their strategy are no reason to cast a suspicious shadow over their merchandise.
The Products at Infinite CBD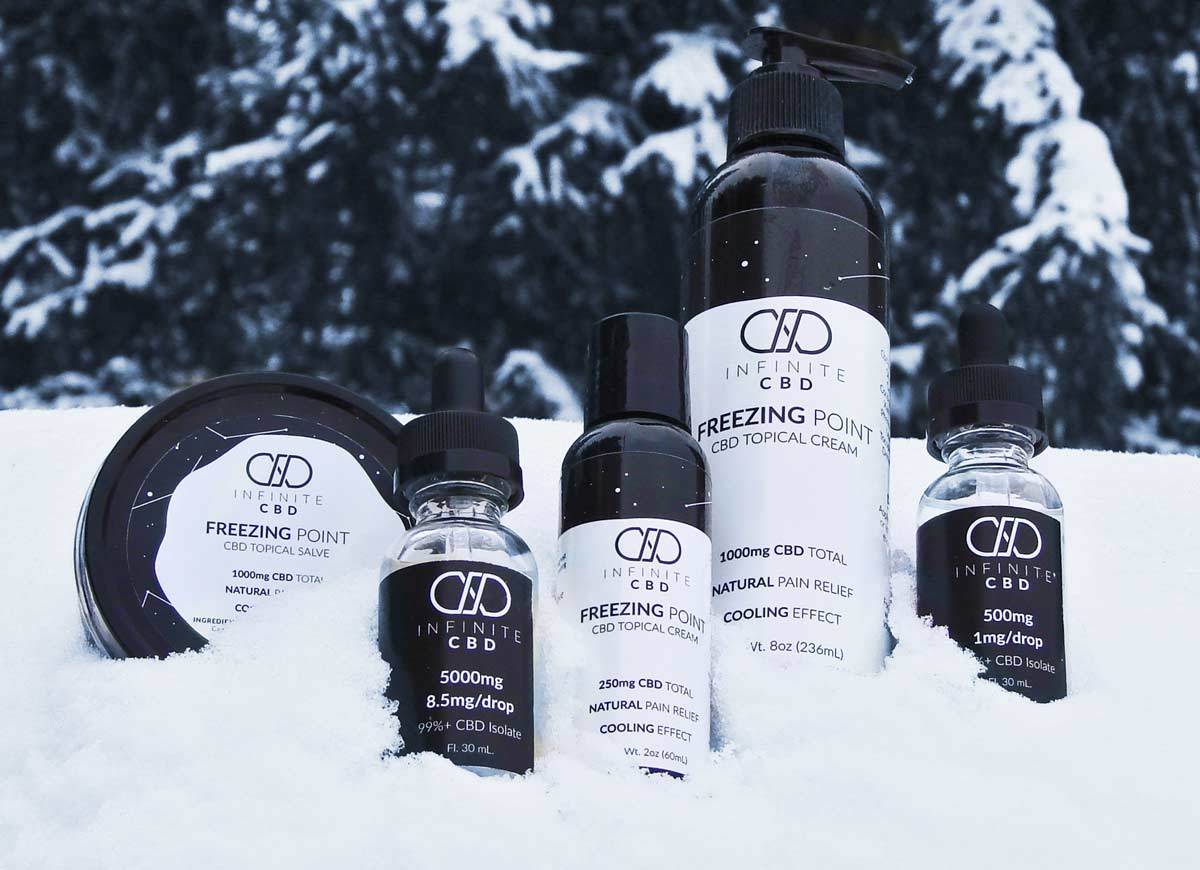 Asteroid CBD Isolate Gummies
CBD edibles are gaining in popularity for the past couple of years, and although Infinite CBD does not have an extensive line of such snacks, the Asteroids are billed as ideal for consumption for both adults and children. The manufacturers use only natural flavors, and instead of sugar or artificial substitutes, the gummies are sweetened with pectin – considered safe by competent authorities in the United States, Europe, and Canada; thus having no restrictions on the daily intake.
A pack of Asteroid Gummies costs $22.50, contains ten pieces, amounting to 2.8 oz or about 80 grams. Each piece is infused with 25 mg of 99.7 percent pure cannabidiol. Obviously, at $2.25 a piece, Infinite CBD's gummies are more occasional snack than a steady option of getting one's cannabidiol dose.
Absolute Zero
The Absolute Zero is cannabidiol isolate in the form of crystalline powder. It is more refined than other corresponding products from other manufacturers, meaning it can be more easily incorporated in the delivery method of choice – it is meant to be either inhaled or smoked, although one can always create homemade ointments.
Absolute Zero is known for its incorporation of terpenes, making for the famous "entourage effect" which we have mentioned earlier. Apparently, one can opt for the pure variant, with no terpenes added.
TABLE Considering the exceptional, third-party tested, purity of the cannabidiol contained in Absolute Zero, one could argue that the price is nothing to shy away from: $27.50 for a gram of product ($2 extra for the terpenes included variety), $90 for 3.5 grams ($8 more for terpenes), $175 for 7 grams ($13 more for flavoring), $345 for 14 grams (+$29), and $670 for 28 grams (+$33.50).
Afterglow
Afterglow is Infinite CBD's healing oil featuring cannabidiol, although it is not necessary to have an open wound on the skin to garner the benefits of topical CBD application. Well known for helping with eczema, psoriasis or burns while accelerating the healing process in the skin.
The 1.7 oz. The bottle contains 50 mg of cannabidiol, promising to boost skin immunity for just $18.10.
Capsules
Infinite CBD provides its customers with an exciting twist when it comes to this prosaic manner of supplementation. In addition to a standard line of cannabidiol capsules (also featuring immune boosting coconut oil), they also provide the customer with different capsules to be taken in the morning (with added caffeine) and at night (with melatonin).
The standard issue comes in bottles of 10 capsules (with CBD concentrations of 10 mg, 25 mg, and 100 mg per pill); costing $8, $16, and $52.50 respectively) and 30 capsules with the same concentrations at $18, $38, and $140. The morning (dubbed A.M.) and evening (dubbed P.M) versions are available just in the 25 mg and 100 mg varieties; a 10-capsule bottle is going for $17 and $54, respectively while a 30-capsule container being priced at $40 and $142, respectively.
Dark Matter
The Dark Matter soap from Infinite CBD builds on alleged antiseptic properties of cannabidiol. It is merely another variation of the Afterglow oil, with the same 100 mg total amount of CBD and a slightly upgraded volume of 60 ml, costing $12.43.
CBD Isolate Droppers
Droppers are the preferred method of administration for long-term CBD users, and this is probably why there are a few options available for those preferring sublingual delivery. The droppers again feature coconut oil as a complement to the cannabidiol. The mechanism is set to deliver doses of either 0.5, 1, 2, 4, or 8.5 mg of CBD per drop. Anyone can choose terpenes-infused versions of the product from 11 distinct strains.
A bottle of droppers with a 250 mg total amount of cannabidiol costs $15 ($23.50 with terpenes), 500 mg goes for $22.50 ($31 with terpenes), 1000 mg for $38.50 ($47), 2500 mg for $80 ($88.50), and $140 for a 5000 mg bottle (add the $8.50 for terpenes).
Freezing Point
It may sound somewhat strange for a CBD product, however, the Freezing Point brand is nothing but a topical cream building upon the anti-inflammatory properties of cannabidiol. The "freezing" bit comes from the addition of menthol and peppermint oil, which provide the advertised effect. In addition to those, the recipe is rounded up with beeswax, camphor, and eucalyptus oil.
Customers can order it in either salve or cream form, with a total CBD amount of 1000 mg for $49.08 at a volume of 8 oz. for the cream and 4 oz. for the salve.
Rocket Ships
Perhaps ironically branded, one's first guess would not be that Infinite CBD's Rocket Ships are cannabidiol featuring suppositories. Based on coconut oil, the Rocket Ships reach the bloodstream speedily, is also recommended for hemorrhoids and yeast infections. Each pack contains ten pieces, and there are two available options, based on the cannabidiol amount in each piece: 25 mg at $15.40, and 100 mg at $45.40.
Vape Juice
Infinite CBD's Vape Juice is terpenes-infused vape liquid. There are eight flavors available at the moment – Tangi, Silver Haze, OG Kush, Cheese, Blueberry, Harlequin, Jack Herer, and Mango Kush – combined with two different CBD concentration in a 15 ml bottle: 500 mg costing $38.50 and 1000 mg at $56.
Pet Droppers
The endocannabinoid system is not restricted to humans; it is thought that all mammals possess tissues with substantial agglomerations of cannabinoid receptors. If customers want their pets to benefit from the effects of cannabidiol, Infinite CBD provides solutions for small, medium, and large pets (less than 50 lbs, less than 75 lbs, and less than 125 lbs respectively) at 5 mg per drop. It can be administered either orally, topically, or mixed in the food.
As far as supplements go, the quality of Infinite CBD's products is as faultless as can be. Obviously, there are a few blips when we consider the trustworthiness of the company itself, but that can only be brought into question when something goes wrong. Nevertheless, their promotional strategy – educating the public on the benefits of cannabidiol through stand-alone sections in the website, product descriptions, and an updated blog – is one of the best in the business.
Don't Miss the Infinite CBD Special Offer